Careers for International Nursing Professionals
University Hospital Cologne - Germany
Have you recently completed your training as a nurse, or do you already have some experience in the profession? Would you like to work in Germany? If the answer to both these questions is yes, we would like to meet you. University Hospital Cologne can not only offer you an exciting role but will also make things as simple as possible for you when you start working here – from helping you look for accommodation to providing an intensive induction.
University Hospital Cologne as an employer
University Hospital Cologne provides the top category of care services and is one of the largest employers in the region. With over 70 wards, outpatient clinics and specialist departments, you can expect varied employment opportunities and the chance to work with specialists from a wide range of occupational groups every day. More than 10,000 people from over 90 countries are employed at the hospital. We work together in an outstanding atmosphere of respect and tolerance, where we value and appreciate each other. We want our colleagues to feel comfortable in their roles and to have the chance to reach their full potential. That's why we give you the best possible support on your individual career path.
Benefits for you:
Job security and excellent prospects
Challenging work at the forefront of medicine
State-of-the-art methods and equipment
Continued development of nursing based on the latest healthcare findings
Interdisciplinary and international teams
Intensive induction and many opportunities for further training
During the recognition process: contract as nursing assistant
After the recognition process: possibility to receive a limitless contract as certified nurse
Natasa Vuckovic from Bosnia, 26 years old, nurse at University Hospital Cologne since 2017: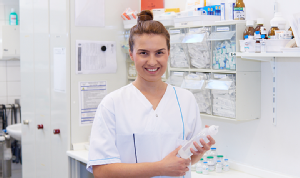 »I have been living and working at University Hospital Cologne since October 2017 and I really like it. We have numerous opportunities for further training and there are always new challenges. The hospital has given me a lot of support and helped me to get my nursing qualification recognised. When I think about Cologne, I don't just associate it with work, but also with the chance to achieve my career goals and realise my dreams. I've made lots of new friends and am very happy here.«
Vesna Kragic from Bosnia, nurse at University Hospital Cologne since 2020
The video above shows our employee Vesna who came from Bosnia to the University Hospital Cologne in 2020. She had to obtain the German recognition of her foreign nursing certificate in order to work as a nurse. Based on the official assessment of equivalence, she had to pass an adaption period with practical and theoretical lessons. During this entire process, she was supported by our "International Nursing Management". After 18 months, she accomplished her recognition and could apply for her german nursing certificate. From now on, Vesna works as a government recognised nurse on the ward for "Oral and Maxillofacial Surgery". If you are also interested in working as a nurse at the University Hospital Cologne, please contact us!"
Cologne – the city with a special attitude to life
Cologne is Germany's fourth-largest city, but the metropolis on the Rhine is still known for its relaxed lifestyle. People who are new to the city are pleasantly surprised by the openness and warmth that the locals have for others. There is plenty of culture on offer too, such as the historic old town around Cologne Cathedral as well as many theatres and museums. At the end of the working day, people might head to one of the international restaurants or meet for a drink in the trendy Belgian Quarter before enjoying the nightlife. All the major European cities are easily accessible from Cologne thanks to the city's central location and good connections from Cologne Bonn Airport, which is just a short distance from the centre. This means you can make a spontaneous trip to visit friends and family back home – or invite them to come and see you.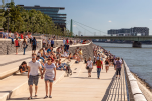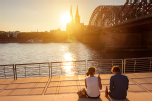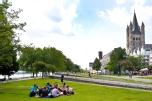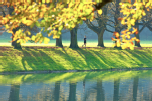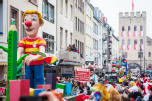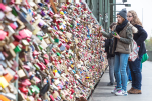 FAQ - Useful information for foreign applicants
How do I find accommodation in Cologne?
Cologne is a young and popular city, so accommodation is in high demand. To ensure that you have enough time to look for a suitable place to live, you can rent one of our rooms or small apartments for up to a year, depending on availability. We also have internal listings on our intranet, where colleagues advertise available apartments, which may also help you with your search.
How do I get my professional qualification from my home country recognised?
Regardless of where you come from and whether you have undergone vocational training or studied, your professional qualification must be officially recognised in Germany. In North Rhine–Westphalia the Bezirksregierung Münster – Ausbildungen aus Drittstaaten (bezreg-muenster.de) (regional examination office for medicine, psychotherapy and pharmacy) is responsible for the recognition of qualifications.
We can help you to find the right point of contact and support you through the various stages. If you need to take a conversion course, we will help you with this.
Can I start working during the recognition process?
While the recognition process is ongoing, you can work as a healthcare assistant. Once your qualification has been officially recognised, you are then free to pursue a permanent contract.
What German language skills do I need?
The better your level of German, the easier it will be for you to settle in the city and at work. Therefore, all of our nursing professionals should have at least B2 level in German. In order to help you to further improve your language skills, we cooperate with various language schools and cover the costs for classes up to C1 level.
What kind of induction training will I have?
We want you to feel at ease here as soon as possible, so we have developed an intensive modular induction concept, which we link to your existing professional experience. Before they have any contact with patients, intensive care nurses will be offered training by experienced nursing staff and doctors on transferring theory into practice.
Can I work as a nurse for a trial period?
You are welcome to undertake a no-obligation trial period in order to get to know our departments and, of course, the colleagues who work there. We look forward to meeting you and are happy to discuss the potential timing and arrangements of your trial period.